Large, old-fashioned vintage sepia tone stylish photo art design of piano keys close up. This mousepad makes a wonderful gift for any pianist.
This iPad case features an abstract pattern of woven horizontal bands. The brilliant shades of red, purple, blue and black seem to glow.
Woven Bands
by
Bebops
Browse other
iphone 3 cases
Bring a little movie magic to your next event! Whether you're hosting a birthday party, a movie night or simply rolling out the red carpet for some other bash, this fun invitation is sure to get compliments. Based on the iconic visual of a movie clapper board, used in the industry to begin takes for movie scenes, the invitation has the distinctive white and black arrow design at the top and chalkboard-like fields that have been updated for use as an invitation. All fields are customizeable so you can choose what your invite greeting is (be sure it fits!), the event, the location its being hosted at, the date, time and a brief RSVP Info summary. On the back, is a section to add specific event location address information, and two optional fields to be used for whatever you'd like. In this example they have been used to showcase what movie will be played and what food is being provided along with direction availability.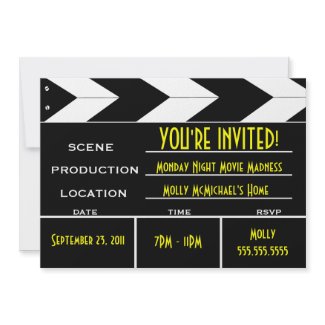 Movie Clapper Board Custom Invitation
by
Sialicious Stationary
Create an
invite or announcement
with zazzle.com