For those who love jazz, this tote bag is a celebration of the very best of the bebop and post-bop eras. Colorful circles of red, blue, purple, white and turquoise enclose some of the great musicians. All is set off by yellow and green text on a pure black background.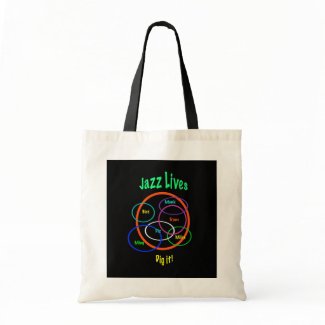 Jazz Lives
by
Bebops
A Zazzle Top Ten Views Award! "You're Invited" Invitation Postcards. Textured look paper with border of leaves distressed illustration with matching vintage old fashioned grungy look text that can easily be changed and personalized. Great for upcoming weddings, engagements, anniversary and birthday parties, and save the date, etc. Back can also be customized with more text or left blank to personally hand write later.
Here is a lovely postage stamp for postcard featuring White Rose on pale blue background. Three sizes to choose from.