This postcard features a very simple still life composition of a single golden brown larch cone still attached to its branch on a straw mat against a chocolate brown background. The exquisite detail of this very small cone resembles a wooden rose.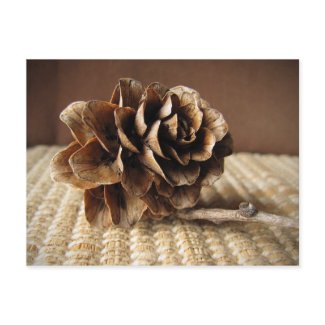 Larch Cone
by
Bebops
A stylish and classy, case with a vintage old fashioned damask wallpaper fabric look in stylish black on striking silver with a beautiful bling butterfly of diamonds look in the center. Easily personalize with any name or initials. An iphone 4 case that's sure to stand out from the rest! A wonderful gift for Mom for Mother's Day, as well as a gift for any anniversary, Valentine's Day, birthdays, or even for brides for a wedding gift!
Botanical art on shoes. These stylish womens slip ons are perfect for fans of carnivorous plants. Makes a unique gift for a gardener, botanist, landscaper or anyone who loves plants and nature. Fun to wear to gardening club or botanical society meetings. You can change the binding, stitching or background color if you'd like. The beautiful botanical drawing is of the carnivorous plant Darlingtonia californica. Also called the California Pitcher Plant, Cobra Plant, or Cobra Lily, it is native to southwestern Oregon and northern California, growing in bogs and seeps with cold running water. The common name Cobra Plant comes from how its tubular leaves resemble a rearing cobra.