This mousepad features two adorable African Penguins standing on a rocky ledge. They are aquatic, flightless birds whose wings have become flippers. Each has a black stripe and black spots on the chest. The pattern of spots is unique for every penguin, just like human fingerprints. They have pink glands above their eyes and pink and black feet.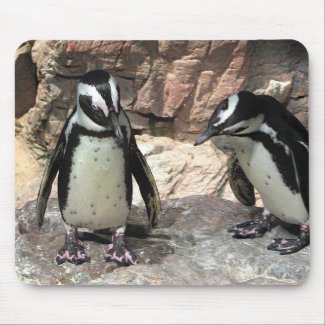 Penguins
by
Bebop's Place
View more
African Mousepads
A single foot stands en pointe in the watercolor sketch on this iPod Touch case. Dancing among pinkish-purple and yellow flowers in a green meadow against a blue sky, the dancer wears a deep pink toe shoe and pale pink tights. The customizable text can easily be changed to say whatever you like or can be deleted altogether. From an original digitally created image.
THE COBBLER: an from original, primitive, naive, acrylic painting by Peter McPartlin.